Wayne's Northern Soul Story
My first personal venture into the world of music began as a disc jockey in autumn 68 
at a church fete whilst still a student at Hallcroft School in Ilkeston Derbyshire England.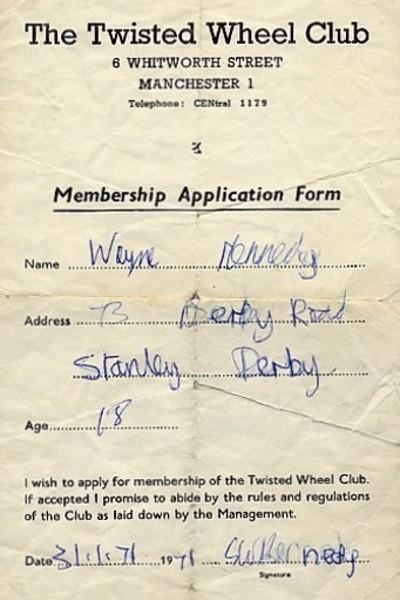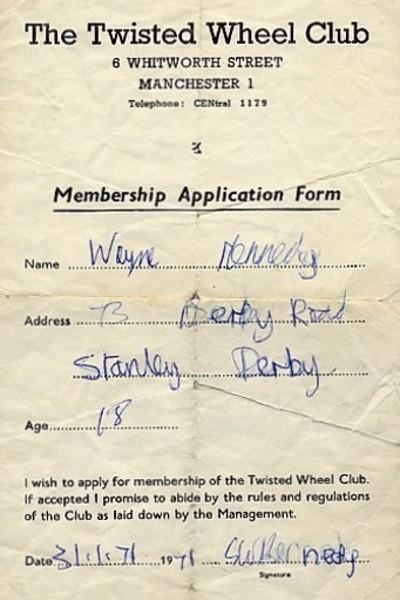 On the 15th of January 1968 I had been to the Sherwood Rooms in Nottingham along with 4 of the Smedley sisters from my home village of Stanley to see Geno Washington and The Ram Jam Band. It changed my life - that was it - I was a mod - and to this day it remains the greatest live performance I have ever seen. My first full time job was at Derbyshire Miners Holiday Camp in Rhyl in July 1968 when I was a little untruthful 
about my age as I was still only 14 years old. Thankfully I loved it and on the 27th July 1968 I was able to witness another amazing Geno performance at Prestatyn Lido and along with several other staff and we walked back to Rhyl in the early hours.

Back home at the end of August to start 6th form at school and visits followed to places like the Brit Club (Britannia Rowing Club where I would later become a DJ) and the Beachcomber Club in Nottingham to hear American soul and rhythm and blues tunes.

Early 1969 I began working for Nottingham based DJ and promoter Dave Knight at the Shipley Boat Inn on Monday nights and subsequently his new big weekend venue Ilkeston Co-op Ballroom.

January 1970 I began working for Dave at The Blue Orchid in Draycott between Derby and Nottingham. This event was a weekly all-nighter and every Friday I would go from the Co-op to The Orchid as it became known. Throughout the entire year I missed just one all-nighter when I was away on holiday in Rhyl.

People were travelling from all over the country to hear primarily rare American soul records. Every week it seemed another great song from the past decade was discovered. To some it may seem a little strange now but quality new releases like the Invictus singles Give Me Just A Little More Time by Chairman Of The Board and Band of Gold by Freda Payne were also played. Record dealer Jeff King from Leicester would arrive every Friday with a new bunch of goodies - I actually got paid in records as Dave would pay Jeff.

Most discotheques at the time were often dingy night clubs in city centres - not the 
Blue Orchid, it was a plush restaurant with swimming pool, lawns and a picturesque fountain outside. The Orchid oozed class and jeans were not allowed what so ever - 
I even saw people turned away at the door who had drove a 100 miles to get there.

One definitive moment became a treasured memory when around 4 am on a Saturday morning when the summer sun began to rise and looked outside from the stage at the fountain in the garden whilst hearing Monkey Time by Major Lance.

Various American soul acts appeared live at the venue, not every week but usually about once a month which upon arrival meant dancers off stage band equipment on.

Sadly The Orchid only ran for about a year and finished at the end of 1970, but its significance and contribution to the northern soul scene was undoubtedly immense.

One night a guy came on stage whilst I was spinning tunes and introduced himself - 
Hi I'm Les Cockell the DJ from The Wheel. This was the legendary Twisted Wheel in Manchester. Les was impressed with our scene and invited me up to The Wheel.

My first visit to Twisted Wheel in Manchester was with a cockney guy who lived in Nottingham called Les who I have not seen for over 50 years. I had just purchased 
my first car, a fine Ford Anglia Estate to be precise with a full MOT for a mere £25. 
So off we trekked to Whitworth Street, Piccadilly, Manchester - in search of cool !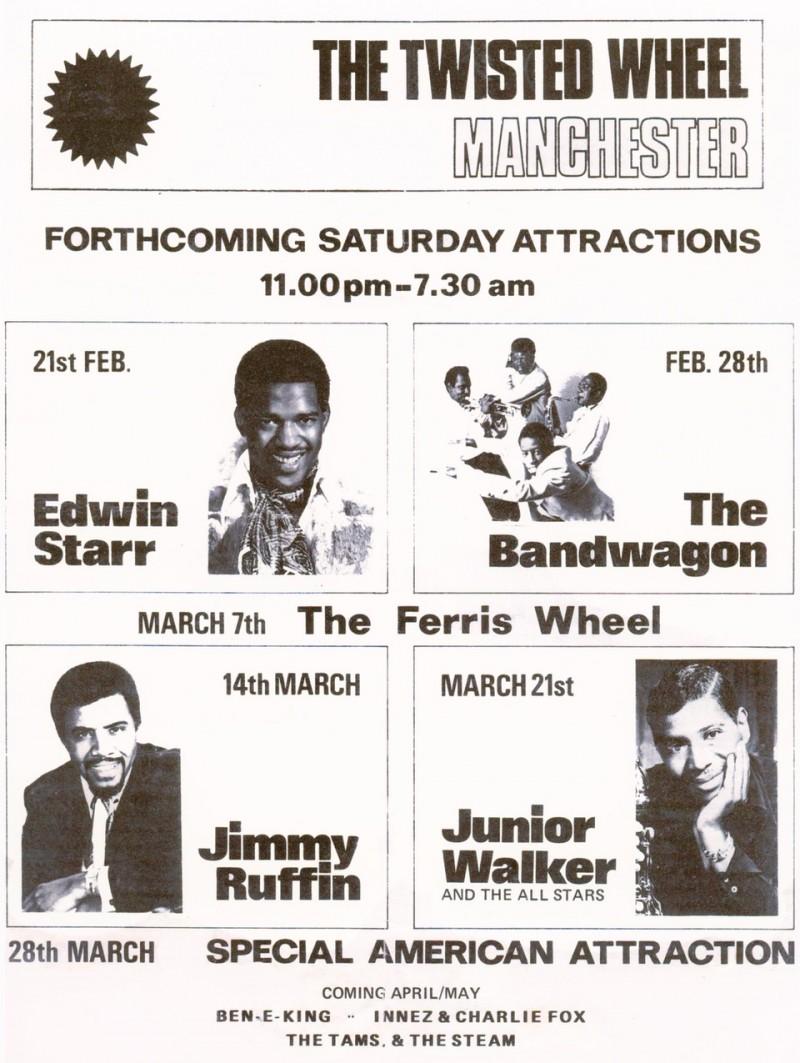 Upon arrival we were greeted by a bouncer who said - where are you from lads - "Nottingham" Les replied. Do you have any drugs on you ? - no we both replied - upon which he said - good, because I'm going to search you and if I find any you will be going back to Nottingham in an ambulance. Things can only get better I thought and so they surely did as after the frisking we proceeded down the steps to the tune "Secret Agent" by The Olympics. This is it - Nirvana – surely the hippest place on the planet. Not the class of The Orchid, but a vibe I had only experienced previously at The Beachcomber Nottingham (which closed in 1968) and few times since despite travelling worldwide.

Bumped into my mates Matchy and Dave Bacon from Rotherham and I said to Dave whose that ? - pointing to a guy who made John Travolta in Saturday Night Fever look shy !. He said that's Frank Booper from Widnes - he thinks he is a better dancer than Matchy. Just as I was thinking he must be crazy - he leapt off this wall in to a back drop and numerous spins. Wow - great - but not the greatest - Matchy is still the man.

Les Cockell introduced me to the crowd which was a wonderful moment but mistakenly said The Blue Lagoon instead of The Blue Orchid - I forgave him. Several girls were unusually dressed in a fashion that I had not witnessed before - they were wearing 
tight amber hot pants (from Wolverhampton I believe). This was the first time I had seen this new craze and I definitely was not complaining.

Jimmy Ruffin was performing live on stage that night and one thing I will always remember is the sight of bouncers throwing screaming hysterical girls off the stage 
as he sang "Farewell Is A Lonely Sound".

Before we knew it time flown by and it was time for the drive home. Unfortunately whilst driving back I must have dosed off and lost control of my Ford Anglia Estate 
and we hit one of the Peak Districts famous Derbyshire stone walls - backwards !!! resulting in all the back end being dinted in. Not to worry it was well worth it and thankfully I managed not to crash on other visits. However the very last all-nighter 
at the Wheel which I believe was Saturday 31st January 1971, regrettably I spent 
the night in a lads car with a conked out engine broken down on the side of the road 
in Nowheresville North Derbyshire. Five of us, two other boys and two girls (and the sheep) freezing to death.

That was it - in the space of a month my life had been ruined - no Orchid and no Wheel = no more cool for the rest of eternity - its over !

The phrase Northern Soul was not used mainstream until 1970 when Blues and Soul journalist Dave Godin ventured North from London to The Wheel to sample the all-nighter scene. This was referring to the type of soul played up North (of Watford) usually more up tempo than than the tunes preferred in the South of England.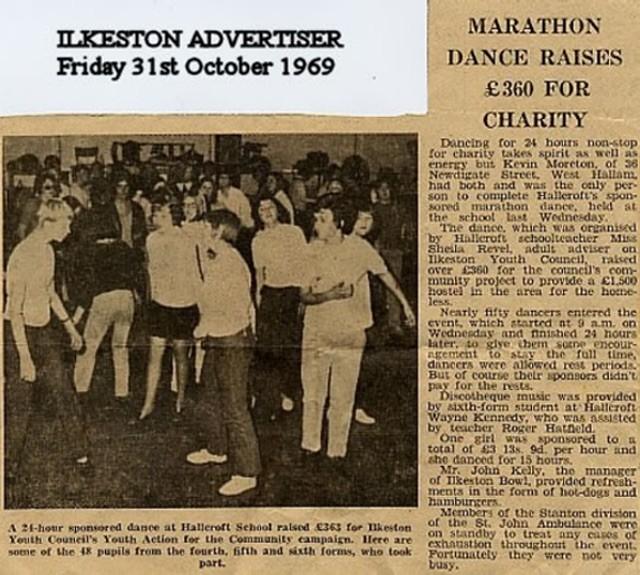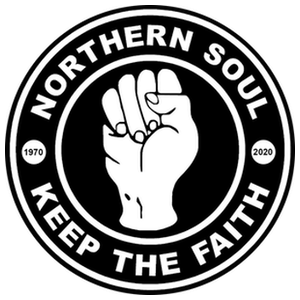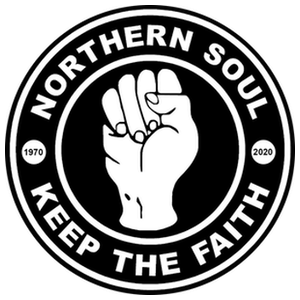 Not sure who came up with the phrase - "Keep The Faith" - but it still used today.
What's with the black power thing a friend once asked ? referring to the symbol of 
a black raised fist. Well it was never a power thing at all, simply a mod fashion of wearing black driving gloves.
Promoter Dave Knight got ousted from the Ilkeston Co-op after building it up and his replacement Geoff Scragg and Geoff asked me to stay on which I did until around September 1974 when I became a full time professional singer/entertainer & musician. 
I also continued to do sessions at The Brit Club in Nottingham until about 73 I think.
Northern Soul in its original first generation cult form had lasted little more than just 
a single year throughout 1970. But put it to prospective with an earlier musical genre - Buddy Holly's entire recording career lasted only 18 months in total.
Visits to Up The Junction at Crewe and The Golden Torch at Stoke and later Blackpool Mecca were OK but not magical for me. Things had changed by 1972, the country had 
a different currency for one thing and new times were afoot. Soul music had started to move in a different direction, leaning towards 100 mph instrumentals. My skinhead haircut had become an afro!. Numerous times friends asked me to go to Wigan Casino, the new hot spot which opened in September 1973 but unfortunately at the time it 
lacked the earlier magic. Latest fashion of enormous jeans and vests was not for me, 
mods don't dress like that - neither did stars like David Ruffin or Otis Redding!.
Suddenly by 73 it seemed like time had passed me by (yes even at only 20) after five years on the scene and it felt appropriate to move aside and make way for the second generation. Reality is that it was simply not my time. History has proved that several great records were discovered at Wigan and indeed other subsequent venues that followed. All that matters is that people who went there had a good night - because 
that was their time. Looking even further back for some people on the mod scene it 
was probably all over for the original mods after Brighton in 1965. We all have our opinions about which was the best time and usually this coincides with where you just happened to be in a certain point in your life.
Whilst the golden year of 1970 will always remain the definitive year for Northern Soul, we can happily look back with pride, smile and share all our great times together.

Wayne's Northern Soul Story
The Official Northern Soul 50th Anniversary Show